Safeguarding cohesion and dialogue : Beyond A Standard Prevention Narrative
This report is the culmination of CSPPS Trainee Adeline du Crest's 6-month research project. Through consultations with key CSPPS partners and stakeholders, this report aims to establish best practices for state and non-state actors alike on how to effectively respond to violent extremism and radicalisation.
The objective of this report is to catalogue and highlight civil society's valuable contributions to the prevention of violent extremism (PVE) in order to solidify its place within the international community on this topic. In addition to recognising the value of Preventing Violent Extremism (PVE) as opposed to overly securitised response measures, the report proposes to move beyond this narrative and evaluate needs before societal actors are further radicalised, become violent, and engage in acts of extremism. This approach is also centred on the role of Civil Society Organisations (CSOs) working to foster dialogue and community building, who therefore play a key part in prevention. CSPPS thus sees a clear link between PVE and its mission to amplify the voices of local civil society, demonstrating the importance of developing knowledge on the topic.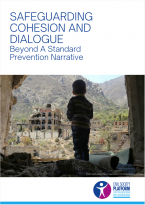 Download publication