Reporting for the Future: Final Report Ready for Review 2019
The Civil Society Platform for Peacebuilding and Statebuilding (CSPPS) is pleased to share with you the Reporting for the Future: Final Report Ready for Review 2019, the report of the first iteration of its Ready for Review project.
This report provides an update on the efforts deployed by CSPPS, its members and partners to strengthen the engagement and capacity of CSOs in fragile and conflict-affected countries participating in the VNR process in 2019. In implementing this project, the CSPPS has sought to foster meaningful inclusion and contribution of national, regional and local civil society organizations in government-led consultation, review and validation processes of the SDG16. We provided capacity building training through national workshops  among civil society in the countries concerned to ensure their meaningful participation in the relevant processes leading up to the review, working towards a more participatory and inclusive VNR.
The detailed final report provides an overview of the activities carried out as part of the process, including background, detailed objectives and methodology, followed by an in-depth analysis of implementation and finally lessons learned that will inform the next stage of the implementation of Agenda 2030 in the countries concerned and better support the countries that will engage in VNRs in 2020.
We warmly thank our members, partners and donors who made this project possible. We must now move forward to learn from the good practices, and continue our collective efforts in implementing SDG16+ in fragile environments.

Lisez la version française du Rapport pour l'Avenir ici !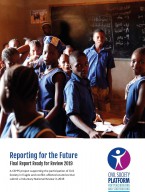 Download publication