Report is out! - Key Voices for Lasting Change WPS series
The report on the CSPPS-Cordaid webinar series "Key Voices for Lasting Change - Shaping the WPS agenda for the next 10 years" is out!  
From October 19 to October 23, the Civil Society Platform for Peacebuilding and Statebuilding (CSPPS) and Cordaid jointly organized a series of virtual dialogues that aimed to showcase good practices and inspiring examples around the Women, Peace and Security (WPS) agenda from around the world. The report on this series presents outcomes of each side-event, as well as general outcomes and recommendations of the series altogether.
As 2020 marks the 20th anniversary of United Nations Security Council Resolution 1325 on Women, Peace and Security, this series provided an opportunity to look back at previous efforts and progress with regard to women's involvement in peace and security issues and attention for women's specific roles and needs in diverse conflict-affected settings.  
The dialogue series showed the diversity of the WPS agenda with examples from Libya, Iraq, Yemen, Afghanistan, Somalia, Burundi, DRC, CAR, Guinea Bissau, Cameroon and South Sudan and provided a space for  women's rights activists to share invaluable input on moving forward with the agenda. As such, the series offered an opportunity to learn and to develop our sensitivity and contextual understanding, allowing us to contribute to lasting change and move from resolutions to implementation on the ground, because ultimately, efforts towards change should always refer to and originate at the local level. 
The Key Voices for Lasting Change-report highlights the contributions by our various panelists. We hope that these key voices are heard and further amplified in order to encourage activists, policy makers and donors to renew their commitment to the WPS agenda, and to accelerate action towards the full implementation of the agenda.  
 
We hope you will find the report to be equally insightful and inspiring.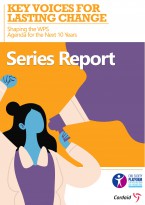 Download publication